Interview with Jutta Kleinschmidt – The First and Only Female Winner of the Paris-Dakar Rally
Jutta is a speaker known for her witty, energetic & dynamic character in dealing with challenges and handling setbacks. Her keynote speeches on subject like future mobility, Innovation and Leadership & Motivation offer new approaches and inspirations to so many of her audiences that are directly applicable to all areas, both professional as well as personal.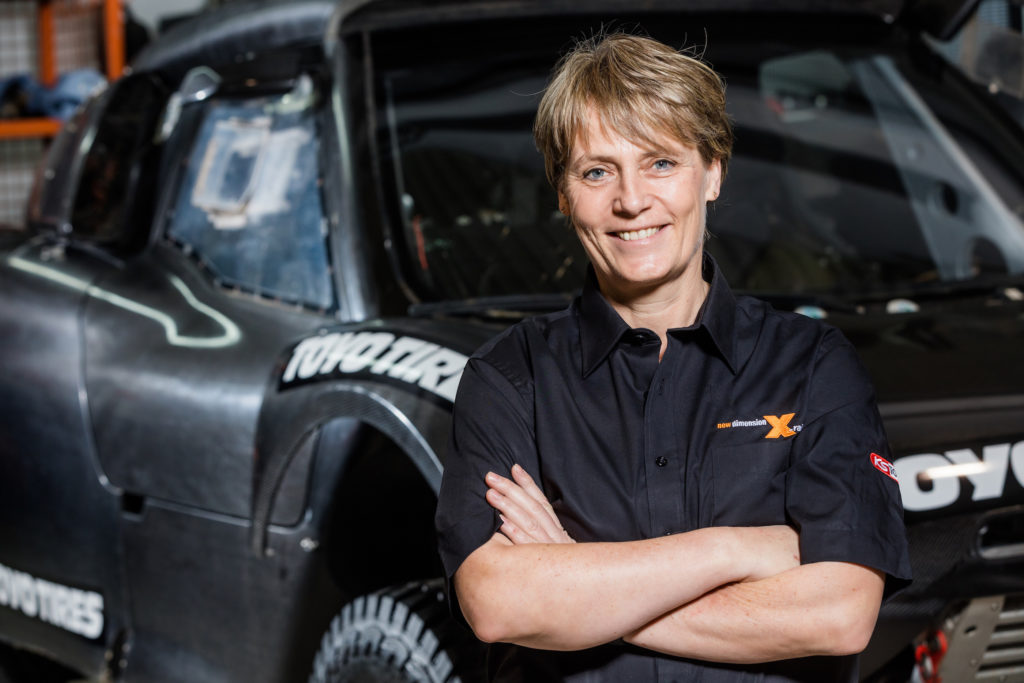 Jutta Kleinschmidt is the most successful woman rally driver ever, to have graced the world of motorsport. She could be referred to as "The Dakar Queen", having created motor sport history with her triumphant victory in the 2001 Paris-Dakar Rally. The Inspiring-Speaker Team interviewed this amazing "desert queen" that proves you can make your dreams become a reality! Discover the portrait of Jutta Kleinschmidt through our exclusive interview:
The Paris-Dakar Rally till date remains the most difficult and highly competitive car and motorbike race in the world. Your victory in this event in 2001 makes you the first and only woman to have won the event. 
Please tell us about the race and your preparation.
Jutta: Until 2009, the event kicked off in Europe and entered Africa by boat. Today the rally takes place in South America .This event is traditionally the pinnacle in the Cross Country calendar and lasts between 2 and 3 weeks. Each year, the organizers develop a new route. The overall distance adds up to around 10,000 kilometers. The whole Dakar community is huge. The entry list usually comprises about 1000 participants, divided into motorcycles, cars and lorries. Additionally, there are vehicles for doctors, catering, organization and press. Helicopters and aircrafts also accompany us. The starting order is being determined by the result of the previous day. The bike riders are opening the road, to be followed by cars and lorries. The first ten cars are separated by two-minute intervals. The remaining vehicles are being sent off in one-minute intervals, depending on the respective regulations of the event. Stages against the clock can take up to 800 Kilometer. Therefore, we are often out all day. The overall time of each competitor is calculated by adding up his times of each special stage.
How about the times you spent in the car during days and weeks of the race with your co-pilot what was the experience like?
Jutta:  The conditions are new every day, for instance you drive through mountains and narrow tracks, rock-strewn roads, dunes and sand. Every day, we drive another timed section.Every evening, the co-driver receives a new road book including route details for the forthcoming stage. It includes details about the itinerary as well as warnings of possible obstacles like wash-outs or holes, the locations of the control points (CPs) or information about GPS and compass. Every evening, the organizers erect a bivouac in which our tents are being pitched. We receive a warm meal from a buffet. While the co-drivers prepare the route for the next day, drivers look after the press and join the mechanics to discuss technical issues.
Tell us about the last stage of rally, just before your victory, what was the feeling like for you? 

Jutta: In the last Dakar stage in 2001 my biggest dream became true. That's a wonderful feeling. By crossing the finish line an enormous pressure was lifted off. After almost 10,000 kilometer I was leading the race with only 2 minutes and 53 seconds ahead of second-placed.  Once stuck in the sand or a flat tire had lost the victory. What the win means, I realized only weeks later.
How do you deal with being on limit, quite often in dangerous situations ?
Jutta: I really enjoy driving fast, therefore I do not think about the danger. Of course motorsport is dangerous, but we also have very good safety equipments. I believe it is very important that you feel well during racing and do not force to drive faster when you feel uncomfortable. It is the fastest, when you're having fun.

From the management theory we once pushed our team to the limits and we were very successful with it. However, it will be challenging in the future to repeat our achievements. How did you motivate yourself after the victory in 2001?
Jutta: I always search for new challenges, and passion is my biggest motivator. After winning the Dakar Volkswagen asked me to develop together with them a complete new race car and put together a new team. I took on this new challenge to use all my knowledge and expertise.
What is your opinion about involving and motivating more women for going into the motor sport?
Jutta: Women need to be introduced something at an early age to get them interested in racing. Get young girls together to work on a car and race together. Knowledge is the key to remove fear in all things and the automotive field is no difference. Giving girls a chance to experience what it feels like to go fast. The adrenaline pumping, the thrill of passing someone and the rush of putting the car exactly where you need it to be for maximum speed. Go-Karts or Autocross might be a good way to go.Last year I organize the "WIMC-QMMF Women's Cross Country Selection", a race driver selection camp to encourage more women into Cross Country motor sport. I am also member of the FIA WIMC (Women & Motor Sport Commission). Our aims are to create a sports culture, which facilitates and values the full participation of women in all aspects of motor sport.
Due to the unstable political situation in some of the countries on the road from Paris to Dakar, the rally had to be moved from the Sahara region to South America. Do you think that this race will ever come back to Africa?
Jutta It would be very speculated if the event could be held in Africa again. Back then, the stages were longer with much more sand and dunes. In addition, the race has been shortened from three weeks to two weeks. By the lack of infrastructure in Africa the general conditions for participants and all team members were also much more strenuous.
Is it even more challenging or interesting to have the rally hosted  in South America?
Jutta: The 2008 event was cancelled altogether due to security concerns. The next year a drastic decision was made to move the event to South America. It might have looked like a temporary solution, but this year, 2016, marks the 8th consecutive time the competition is held in South America.Now that the South American race is well established, the organizers have little reason to return the competition back to its roots. Furthermore, the security situation in Sahara has hardly improved this decade.
You are now 54 years old. and still very active, driving many races a year. Why do you do it and what can you win at this age?
Jutta: After 17 Dakar participations, with six Top 5 positions in the overall standings, today I mainly pass on my experiences as a motivational speaker. To complement this, I wrote a book. In addition my experiences as a racing driver and developer are still in demand. Currently I am developing a new race car together with the German X-raid team. That represents a special challenge as you have to deal far more with the technology and procedures. To make the car competitive I raced this year already at three events, Abu Dhabi, Qatar and Spain. After these races we are even leading the 2016 FIA World Cup for Cross-Country Rallies – 2WD Trophy. Completion is still my passion.
You are not only a Speaker but also a Trainer.
 Inspiring-Speaker is preparing an event with you in Luxembourg in order to: teach participants how to drive in difficult situations. At the end of the training the participants will get an inspiring speech from a world class driver: Jutta Kleinschmidt.
Tell us please more about your trainings?
Jutta: Drive safely every day, learn to recognize the limits of your car early enough or even acquire a C license for motorsport – all that and much more is offered by me in special training courses. Since more than two decades, I am working on improving the safety in road traffic but I also offer driving courses and incentives in adventure tours and as part of special off road events. I have worked many years as an instructor for safety trainings with BMW, Mitsubishi and Volkswagen conducting driver trainings and desert tours. My experience as an instructor also covers the Marlboro Adventure Tours and the Fulda Challenge. The Desert Academy was one of my own events.Groups, which are interested in special driver trainings or adventure events, are welcome to contact me. I am prepared to offer individual incentives for groups.
Finally, latest technology plays a big role in Motorsport. Therefore, the question arises how will we drive tomorrow?
Jutta: Recently, I holding lectures on the subject "Future Mobility" The automotive industry goes through radical changes, which will also relate to motorsports. The road ahead looks bumpier than ever. I give my audience an outlook into the future of driving. What will prevail: Hydrogen-powered cars, battery-powered vehicles, hybrid cars or still the petrol engines? Driverless cars are coming. The new technology helps cars to park themselves, monitor the alertness of the driver and even communicate with each other to avoid collisions. But there are more truly mind-melting developments out there…
Thank you Jutta Kleinschmidt, Inspiring-Speaker Luxembourg is proud working close with you and having you on our website as one of our aims is to promote exceptional women as Speakers! 
Check Jutta's work as a professional Speaker. Click here to view Jutta's speaker's profile.