INTERVIEW WITH THE INSPIRING TANDEM ERIC BARONE & MARC AMERIGO
If you are looking for experts in motivation and performance, Eric Barone & Marc Amerigo are the perfect tandem for the job! They are able to talk about performance and motivation to both technical and managerial audiences. This dynamic duo will offer you insights on their expertise in both French and English.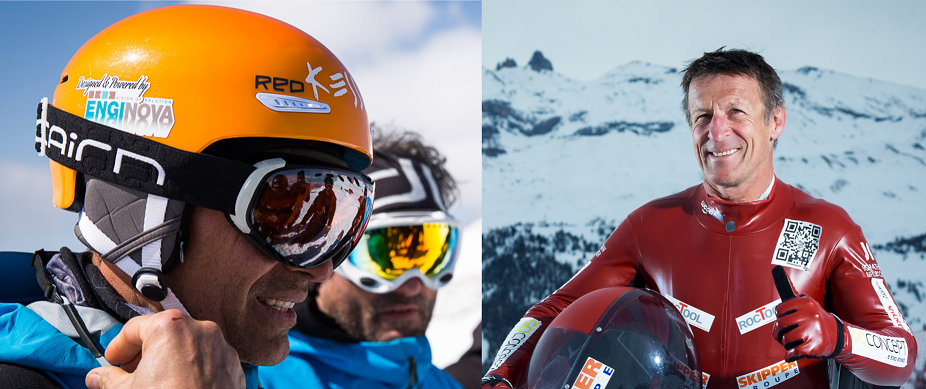 Eric Barone is an extreme sports bike rider. He holds multiple records of speed on snow and  mountain tracks. After a spectacular recovery from his 2002 fall, Eric chose to ride again and achieve what nobody had ever done before! Marc Amerigo is an expert in innovation and performance in complex environments. He graduated from Ecole Centrale de Lyon as a research engineer. Together, they joined their expertise for a new adventure: the world speed record = 223.30 kph riding a mountain bike on snow!
The Inspiring-Speaker Team interviewed this amazing tandem that proves you can make your vision a reality! Discover the portrait of Eric Barone & Marc Amerigo through our exclusive interview:
When I hear >Inspiration< you think…
 Eric: Being curious about the world around us, creating new paths for creativity and innovation. Inspiration brings me that positive energy to boost my motivation and reach my full potential. It is limitless if we know what we aim for!

 Marc: Freedom, discovery of the unknown, motivation, going beyond the limits, discovering and realizing myself, getting the profound energy to bring a whole team to success!
Together:  Excitement!

Tell us a little bit of story about how you two met and decided to create this powerful Tandem:
Eric & Marc: In 1997, Eric was looking for a technical partner to provide fork and damper for his new bike in order to perform over 200kph. Marc was hired as a research engineer in this high-tech but small company based in Toulouse, France. Specialized in aerodynamics, Marc gave the idea to Eric to go much faster but in much safer conditions than ever! "Yes I want it!!!" This is how they started to work together on the modern high speed bikes that combine a "Formula1" approach like high performance mechanical and aerodynamic design. For the next challenge of next winter, that will represent 20 years of close friendship and extreme sport success!
You both come from totally different world. Eric, you evolved in the Extreme sports. Marc you graduated as a research engineer from Ecole Centrale de Lyon. And yet you decided to become a team and realize this crazy project together – what was challenging about that?
Eric & Marc: To go beyond the limit by breaking World Records and making World Premieres involves personal skills of course : Eric is 56, former Mountain Bike downhill World Champion and stuntman in famous French movies like "Taxi" or "Lucy". Marc is 46, he has a strong know-how in innovation, engineering and project management in extreme sport and complex industrial environments. We are also very complementary but it is far from being enough! The whole process of reaching a world class performance is about having a shared and inspiring vision, about linking the people involved through guidance and kindness and also bringing any of the participants to commit oneself and go beyond his own limits. To combine all these strengths takes several years of hard work and personal involvement. Not easy at all but so exciting! We count on each other a lot to make progress every single day.
You have a passion for personal development and peak performance. What is your insight on how to perform professionally and be fulfilled at the same time?
Eric: To perform and find fulfilment means being where you need to be when you need to. It is finding the mental equilibrium. Personal development and pure performance are intertwined and I look forward to talk about it more through the conferences we are going to deliver! We need to think "Global" when reaching for excellence in Management. I call it " In search of  one's true potential: Body / Spirit / Skills."

Marc: Both domains can't be separated in our mind. We are a unique human being that will perform in different environments. Our personal values keep the same anywhere we are, and we can be happy only if we are in peace with who we deeply are. Personal development helps us to reach this balance anywhere we are and to shine this well-being. And the more you give, the more you get!
What is your greatest motivation in life?
Eric: In life, I am drawn to one thing. There is always a thrill about always reinventing myself. I never do the same thing twice. If I had to choose between a beginners path and a five star difficulty path, I would go for the most difficult for sure!

Marc: Help the others to feel comfortable and perform together. I enjoy when the path goes through innovation!

Do you have a personal motto?
Marc: Never say impossible instead of what if!!! Indeed, learn how to "Shift your Brain"!
a little more about OUR INSPIRING tandem:
Marc Amerigo and Eric Barone are keynote speakers. Their topics are:
Innovation
Project Management
Commitment
Extreme Sports & Industry
Since their World Winning Record in March 2015, they have been sharing their insights in keynote speeches for French and International companies with 20 up to 500 participants! This dynamic tandem also provides workshops on Management techniques. Their speech included a 30 to 60 min presentation along with a Q&A sessions with the participants.
Languages:  Eric (French) / Marc (French and English)
For booking information, click here.
Wednesday Coffee Break with the Inspiring Tandem