ARTICLE ON INSPIRING-SPEAKER IN LUXEMBURGER WORT
OUR INSPIRING-SPEAKER CONFERENCE AT CLC

After the Annual General Meeting of the Confédération Luxembourgeoise de Commerce, Guy Burkhardt was invited to talk about client satisfaction and costumer complaints management. His "Love your client as yourself" speech was a success and resonated with the participants.
"Nous avons tous été ravis de la fraicheur avec laquelle vous vous êtes adressé à l'audience." Fernand Ernster- President of CLC Luxembourg
Our Inspiring Speaker, Guy Burkhardt, was interviewed by a journalist from Luxemburger Wort during his conference at CLC (Confédération Luxembourgeoise du Commerce). Guy Burkhardt introduced his new and innovative concept: "Love your client as yourself". On page 14 of Luxemburger Wort, published on June 15th 2016, is an article about our expert on Client Satisfaction!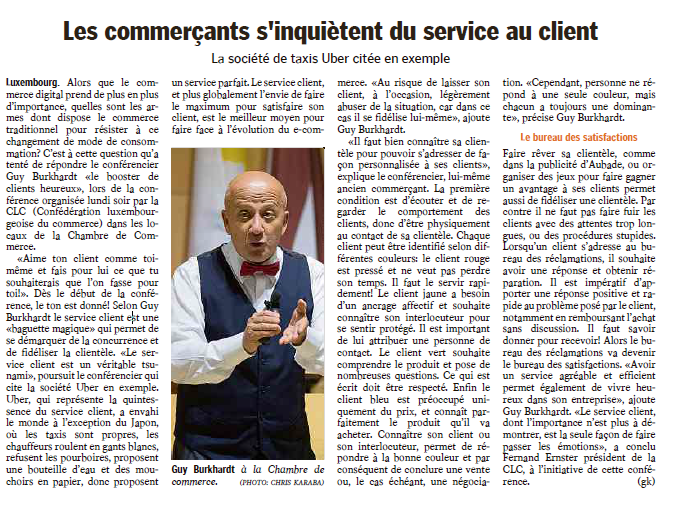 Read more about the conference on clc.lu.